Many students ask me about the SAT Subject Tests (aka the SAT II or SAT 2) or are surprised when I tell them that they might need to take these exams, so I invited Luke, an MIT student, to give you an overview, share his strategies and results, and offer you advice on "how you can check them off your college prep to-do lists without breaking a sweat."
SAT SUBJECT TEST OVERVIEW
SAT Subject Tests are one-hour multiple-choice exams focusing on a particular subject.
These are the current SAT Subject Tests (data derived from College Board):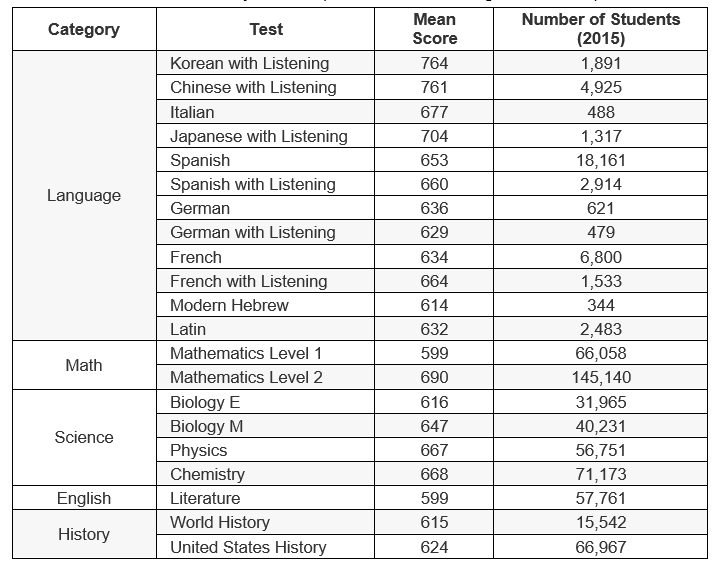 Get more details about the tests (including access to practice questions) by clicking here.
Many colleges, especially the more competitive ones, require one or two SAT Subject Tests.
There are also sometimes special requirements for homeschooling students.
Click here to get PrepScholar's overview of colleges that require SAT Subject Tests.
It may seem overwhelming at first to choose which tests to take, figure out how many to take, and then actually study for them, so I'll share my SAT Subject Test history and give you my personal advice to help you narrow things down.
MY STORY & SUBJECT TEST RESULTS
I took 4 Subject Tests: Biology M, Chemistry, Physics, and Math Level 2.
Truth be told, I didn't study too much for any of these tests, since I took the relevant classes in school and felt very comfortable with math and science.
BIOLOGY-M SUBJECT TEST
I took the Biology SAT Subject Test at the end of freshman year, and so did the majority of Honors Biology students at my school.
I chose M (Molecular) rather than E (Ecology) because I absolutely hate plants. However, most of my friends agree that E is slightly easier, content-wise.
You can find the difference between Biology M and E here.
I studied by going through a Princeton Review book and ended up getting a 770.
The curve wasn't very generous.
To get a perfect 800, you had to get fewer than 2 questions wrong.
CHEMISTRY & PHYSICS SUBJECT TESTS
I took these tests at the end of my sophomore year, after taking Honors Chemistry and AP Physics.
I didn't prepare for them outside of the classroom because our curriculum aligns with the College Board's, and I had a pretty solid grasp of these two subjects.
I got a 790 on Chem — the curve was very similar to that on the Bio test—and an 800 on Physics — which had a VERY generous curve. You could get around 9 questions wrong and still end up with an 800.
If you're even slightly inclined towards Physics, I highly recommend taking the Physics SAT Subject Test.
MATH LEVEL 2 TEST
I already had good enough SAT II scores going into junior year. However, many colleges I was applying to require the Math Level 2 test, so I took it and found it fairly straightforward.
I got an 800 with minimal worry and was able to focus on the ACT and SAT tests that year.
TEST SCORES THAT I SENT TO COLLEGES
I ended up only sending my Math Level 2 and Physics scores to all my colleges (they only required 2 exams).
WHICH SAT SUBJECT EXAMS SHOULD YOU TAKE?
First of all, figure out what kind of student you are and identify your strengths.
Look at a few colleges you're interested in and see what kind of requirements they have. Click here to see the list of colleges that require SAT Subject Tests.
**Note from Dr. Bernstein: It's important to check out the requirements for each school. You can just Google the school's name and "standardized test requirements." Go to the school's website (that's the most reliable source of information). Some colleges that require SAT Subject Tests might say they'll accept any two tests. Others, like Rice, might recommend "two SAT Subject Test scores related to [your] proposed area of study."**
You may notice that many colleges require a Math Subject Test.
I HIGHLY recommend that you take Math Level 2.
Also, I recommend you take Math Level 2 over Level 1 because you can get around 7 questions wrong to get an 800 on Math 2, but getting one question wrong on Math 1 already drops you under an 800.
The differences in curves can be seen here: Math 1 vs Math 2.
I don't think Math Level 2 is that much more challenging than Math Level 1.
If you're applying to a STEM-oriented school (like MIT), you may have to take a SAT Science Subject Test along with the Math.
Here's the breakdown of what I recommend for different types of students:

QUALITY OVER QUANTITY
You almost always only need to send two SAT Subject Tests.
Sending colleges five 750 scores is not going to help you get in.
Instead, send colleges two good scores in subjects that matter to you and coincide with your academic interests. For me, I knew I was a math and physics guy, and my scores in those two tests paralleled the rest of my application (also it was no work for me).
WHAT'S A GOOD SCORE?
If you got a 770 or above, do not retake the exam. It's not worth your time and money.
Colleges will not suddenly accept someone because of 30 points on a SAT Subject Test.
Focus instead on the other parts of your application: your extracurriculars, essays, and big standardized tests (SAT or ACT).
HOW DO COLLEGES FACTOR
SAT SUBJECT TESTS IN THEIR
APPLICATION PROCESS?
I view SAT Subject Test scores as supplements to the rest of your application.
They can offer colleges another data point to assess your strengths in particular subjects, but they're not as powerful as other parts of your application package.
MY ADVICE
Do not take 3 exams in one sitting. It will tire you out and you won't get the best score you can.
Plan ahead. Spread out which exams you take each year (try to make them coincide with classes you're taking during the school year). Get scores you're happy with early on so you can focus on more pressing matters in your junior year.
Don't cram. If you internalize the material during the school year and self-study any content that may not be covered, you'll actually be much better off for the SAT Subject Test than if you just crammed out of a review book. This was my mistake with biology freshman year.
Ask teachers for review materials and how much material does or does not overlap with the SAT Subject Test.
WAYS TO WORK WITH DR. BERNSTEIN!
Click here to learn how to schedule a private consultation with Dr. Bernstein.
Click here to learn more about Dr. Bernstein's ongoing private college preparation and college admissions support.
Click here to learn about the online Get Yourself Into College® program.
Blog post image used: ©Eric Rothermel/unsplash.com