My blog posts tend to focus on issues directly related to the college application and admissions process, but today I want to provide you with free academic resources that will help you boost your grades in your English classes and earn great recommendations.
WHY COLLEGES ARE INTERESTED IN RECOMMENDATIONS FROM
ENGLISH & HUMANITIES TEACHERS
You're going to be doing a lot of writing in college, and you need excellent interpretative and critical thinking skills in order to excel in your classes. It doesn't matter if you want to major in something that seems unrelated to English or the humanities. You need these skills and a recommendation that addresses them.
Don't just take it from me. MIT, for instance, requires "letters of recommendation from two teachers (one math/science, one humanities)." Cal Tech, which is known for its science and engineering programs, also requires "1 math or science teacher evaluation" as well as "1 humanities or social sciences teacher evaluation."
CLICK HERE to get the inside scoop on recommendations for high school students applying to engineering programs.
To earn strong recommendations, you need to do well in your English and humanities classes.
HOW I CAN HELP YOU–FOR FREE
I want to share with you a list of my free academic resources (and recommend some great ones by others) that will make it easier for you to analyze literary texts and write great essays.
I'm a former English professor and award-winning literary scholar who has earned over $60,000 in funding from the University of Notre Dame's Center for Philosophy of Religion, the National Endowment for the Humanities, and the Jewish Foundation for the Education of Women.
Click here to learn more about why I left my full-time position in academia and started my own educational consulting company. Also, check out "The Power and Pleasure of Mentoring."
GET INTO LIT™ EDUCATIONAL VIDEOS
Over the past few years, I've developed my Get Into Lit™ YouTube series, which features relatively short (5-15 minute videos) that guide you into literary texts so that you are empowered to analyze them on your own.
My channel has over 1,500 subscribers and over 240,000 views.
High school teachers and college professors use my videos in their classes.
So I asked myself.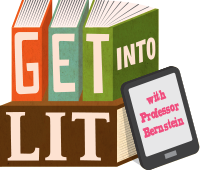 Why haven't I shared these resources on my blog?
I don't know why, but I do know that I want to share this free set of academic resources with you.
No, I don't give you all the answers.
You can find plenty of videos that do the work for you, but they foster dependence.
If you don't learn the underlying techniques I teach you, you're always going to be dependent on other people to tell you what things mean. You'll always feel like you don't know how to analyze what you're reading.
Use the strategies I share with you to boost your grades in your English classes. You'll learn how to take your interpretative skills to the next level and write more sophisticated essays, but that's not all that I want for you.
I also want you to find ways of using what you learn during class discussions or when meeting privately with your teachers.
You want your teachers to be able to write letters of recommendation that help admissions officers understand how you contribute to the class.
If you're an introvert, you might feel more comfortable talking privately with your teachers about your ideas. That's okay! You'll be demonstrating your ability to take the initiative by meeting with your teachers for this reason.
LINKS TO SOME OF MY YOUTUBE VIDEOS
"How to Figure Out Themes in The Great Gatsby–The American Dream"
"The Great Gatsby: Important Issues in Chapter 1 & Nick's Character"
"The Great Gatsby–Important Issues in Chapter 1"
"What's So Great About The Great Gatsby?"
"Intro to Symbols in 'The Yellow Wallpaper' by Charlotte Perkins Gilman"
"Dr. Bernstein's Intro to Charlotte Perkins Gilman's 'The Yellow Wallpaper'"
"Intro to "'Bartleby, the Scrivener'"
"Intro to Walt Whitman's Leaves of Grass + 'Song of Myself'"
"Intro to American Romanticism with Professor Bernstein (Part 1 of 2)"
"Intro to American Romanticism with Professor Bernstein (Part 2 of 2)"
"Intro to the Declaration of Independence"
"Intro to Anne Bradstreet's 'The Author to Her Book'"
"Intro to John Winthrop's A Model of Christian Charity (Part 1)"
"Intro to John Winthrop's A Model of Christian Charity (Part 2)"
"Intro to Nathaniel Hawthorne + `The Artist of the Beautiful'"
"Introductory Thoughts on 'The Open Boat'"
"Intro to Realism, Naturalism, and Stephen Crane (`The Open Boat')"
"Stanzas, Visual Design, and Enjambment"
CHECK THEM OUT and SUBSCRIBE to my channel to stay up-to-date.
IMPROVE YOUR WRITING
My YouTube channel also features videos on basic and advanced strategies for writing opening paragraphs, techniques for body paragraphs, tips for concluding paragraphs, strategies for comparing and contrasting, the basics of creating a Works Cited page using MLA format, how to fix comma splices and use commas properly, how to avoid plagiarism, how to mark up texts, how to evaluate online sources, and how to modify quotes and use long ones.
ADDITIONAL WRITING-RELATED RESOURCES
I also recommend the Online Writing Lab (OWL) from Purdue University. You'll find easy-to-understand rules about grammar, syntax, MLA, APA, and more.
The Harvard College Writing Center also has wonderful tips and techniques for writing great essays.
Blog post image used: ©devon/bigstock.com